Honiara, Solomon Islands – Lawyers at the Public Solicitor's Office (PSO), such as Beverly, continuously deal with other people's legal issues, which requires effective mental health management.
Part of their service requires in-depth engagement with their clients' often traumatic experiences in order to provide expert legal advice and representation, which can lead to increased work-related stress and anxiety.
Beverly Maesimaekeni Saefo'oa, is one of 25 lawyers based in the PSO Honiara office where she provides legal advice to survivors of domestic violence in the Family Protection Unit.
"An important part of our work involves gleaning the intricate details of our clients' legal issues, which means gaining an understanding of the emotional and psychological impact the legal issue has had on our clients," said Beverly.
She added, "What makes our work at the PSO rewarding, can also result in stress related illnesses and cause us to reassess our own personal safety and that of our families".
The PSO, as the mandated constitutionally created institution in Solomon Islands is responsible for the provision of free legal services to the financially disadvantaged citizens, receive daily trauma related cases. Each of the four units (Family Protection, Land Advisory and Legal Support, Civil and Criminal) under the PSO have their own share of challenges.
Requiring an intricate level of attention to detail, lawyers engage in the minute detail of their clients' cases and traumatic circumstances, often resulting in exposure to secondary trauma. The work of the PSO is demanding and the stakes are high, where the actions of the PSO lawyers and staff have a direct impact on people's lives, liberty, and property.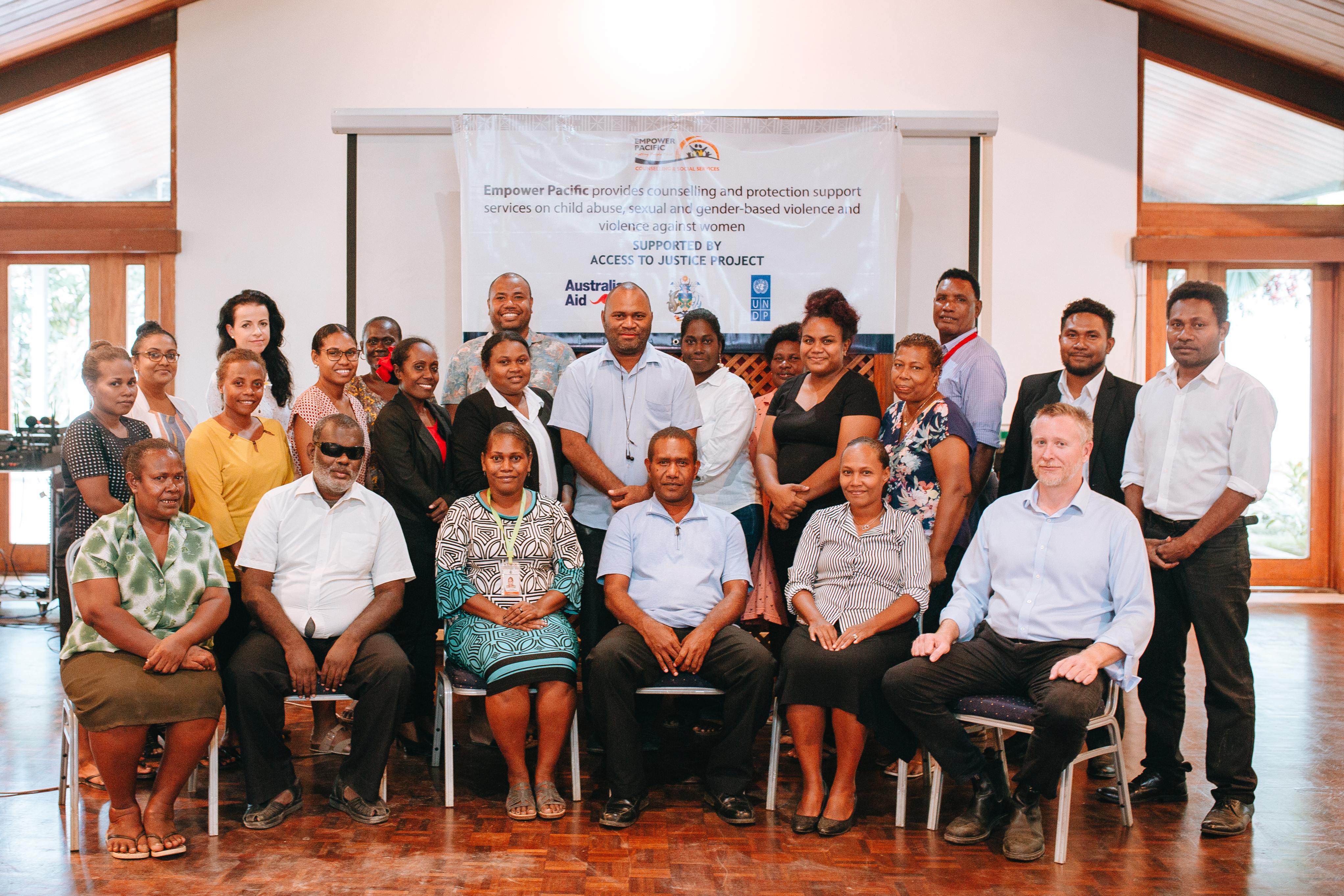 As such, lawyers and staff of the PSO underwent an intensive one-day mental wellness workshop to help boost their mental health and awareness. This workshop kickstarts a positive mental health culture in the workplace.
"In the 14 years that I have been with the PSO, this is the first time for the office to have a workshop like this for our staff and it is indeed a great start to 2022," said Public Solicitor, George Gray.
"The nature of work for most, if not all lawyers at the PSO, means that whatever unit you work in, you are exposed to different cases that can cause secondary trauma and therefore increase the likelihood of contributing to burn out and stress if not managed well."
"At the moment, the PSO offices nationwide currently have 35 lawyers that cater the people of Solomon Islands and with additional external pressures such as COVID-19, the staff are at an increased risk of burnout," said Gray.
He added, "Today's - Friday 14 January - session has been very useful for us because it is important that we recognize we are only human beings and we do need to recharge our batteries when we're feeling stressed or burnt out."
Facilitated by Empower Pacific, the training aims to enhance PSO capacity to better serve the people of Solomon Islands. While lawyers have developed their own techniques to deal with stress, anxiety and secondary trauma, some admittedly agree to varying degrees of success.
"One of the important ways of improving the management of stress, burn out and trauma, is by identifying their causes and consequences," said Empower Pacific Counsellor, Mercy Sireheti.
Empower Pacific, an organisation that provides professional counselling and social services to communities, provided their expertise to PSO lawyers to enhance understanding of different types of trauma, its effects on behaviour and how they can develop mindful practices when they are faced with stress, anxiety, and trauma.
"Mental health is a prerequisite for overall wellbeing including physical health and can impact productivity and the ability to contribute to society. The UN Development Programme (UNDP) is delighted to partner with Empower Pacific to prioritize mental health as envisioned by UN Sustainable Development Goal 3. Ensuring healthy lives and promoting well-being across all age groups is an essential element of sustainable development," said UNDP Access to Justice Project Manager, Grace Kiernan.
The work undertaken by Empower Pacific was made possible through a small grant initiative provided through the Access to Justice Project, implemented by UNDP in partnership with the Ministry of Justice and Legal Affairs through the PSO and supported by the Australian Government.
Following the training, Beverly and her colleagues are confident in implementing self-care practices and healthy coping mechanisms to manage work related stress, enhancing their ability to provide their expert legal services to the people of Solomon Islands.
www.pacific.undp.org/content/pacific/en/home/presscenter/pressreleases/2022/mental-wellness-a-top-priority-for-the-pso.html